This is an important message from Carlsbad High School. Parents, please be advised that no backpacks will be allowed on campus, tomorrow, May 25. Please remind your student to leave their backpacks at home.
The Board of Education is preparing to update the District's Strategic plan. As a part of that process they would like parent/community member input on how our schools did this past year. The survey link below will take you to a survey to collect this information. The survey has 40 questions and should take about 10 minutes to complete. There are open-ended questions and comment sections after some questions to allow for additional information. We would appreciate you taking the time to complete this survey to help us improve our schools. The survey is open until Friday, June 9, 2023, at 5:00 pm. Thank you and have a great summer.
https://www.surveymonkey.com/r/CHPTCTP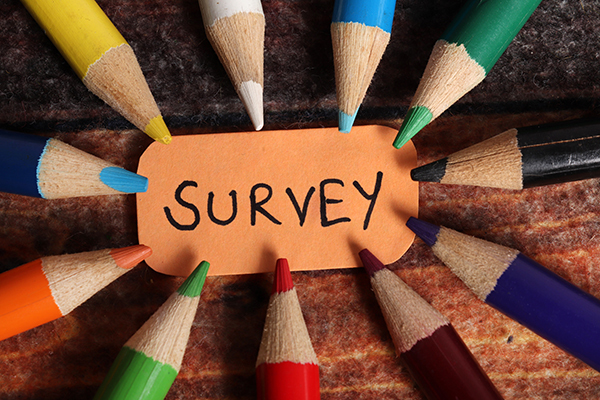 Students and guardians of 10th graders, as we near the end of the school year, we will need your child to return their Chromebooks and chargers this coming week. If all work and tests are complete please have your 10th grader return their charged device and charger on Monday, May 22nd, 2023 through Wednesday, May 24th, 2023 in the Main building Room 2 at CHS. Regardless of whether students are done with work and/or assessments, all devices must be turned in by Thursday May, 25th 2023. Instructions to be issued a laptop before the upcoming school year will be sent at a later time. 9th and 11th grade students will keep their device over the summer, please keep it safe until next school year! Thank you, CMS Technology Department
As we finish this school year we wanted to repeat that your child has access to FREE live tutoring though FEV tutoring. Scheduled tutoring is available from 7 am-10 pm every day of the week, and 24/7 on demand help is also available! Just click the following link for more information. Scheduled tutoring is available from 7 am-10 pm every day of the week, and 24/7 on demand help is also available! Just click the following link for more information.
https://drive.google.com/file/d/1cWPMTlreCHl0PJMeIB8V2h8BFmSHf7rN/view
NMPED will be providing FREE algebra 1 High-Dosage Tutoring (HDT) to 8th grade students transitioning into 9th grade in the 2023-2024 school year. This HDT program is designed to provide 8th grade students a "jumpstart" into exploring the algebra 1 content while providing just-in-time supports to boast 8th grade math skills. The algebra 1 HDT program will begin May 28th and end on August 12th. Students will be expected to participate three (3) times a week in 45-minute tutorial sessions with their "live" tutor on the Saga Connect Platform. Students will need a computer with a camera, speakers and microphone to participate. Please communicate this great opportunity with your parent(s)/guardian(s). The registration period will close on May 8, 2023.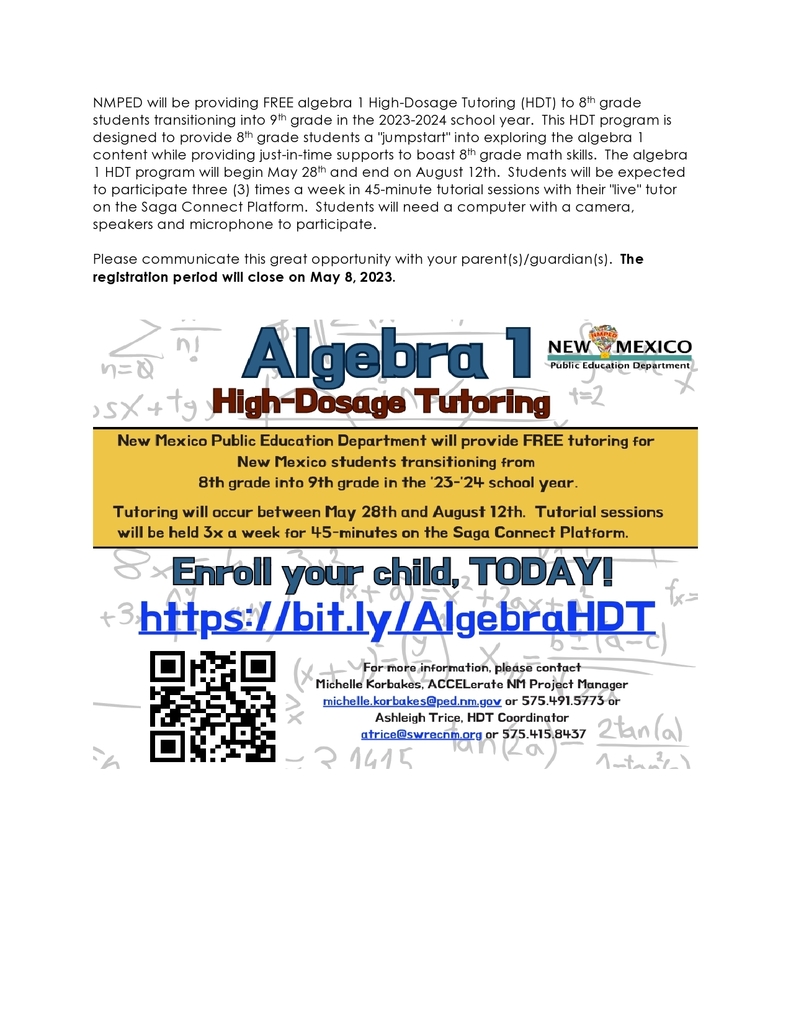 New Mexico State Police is excited to announce our upcoming youth academy! We're accepting high school juniors and seniors between the ages of 16-18. The youth academy is a one-week program that will take place during the summer, beginning Sunday, June 25th through Saturday, July 1st. The deadline to apply is Sunday, May 7th. This immersive program will equip our youth with valuable life skills that will challenge, empower and inspire them to reach their full potential by promoting leadership, self-esteem, discipline, and accountability in their daily lives. More information on our youth academy can be found here:
https://www.joinnmsp.com/youth-academy/
We would greatly appreciate your assistance in sharing this unique opportunity as the deadline is less than three weeks away. If you have any additional questions, please let us know. Thanks!
Apologies for any confusion however, the SDMC notification that just went out is actually for Thursday, March 2 (NOT March 3rd)at 4:15. Hope to see everybody there.
This is an important message from Carlsbad High School. This is just a follow up message to let the community know that we have completed our lockdown drill and are back in normal operations.
This is an important message from Carlsbad High School. As of 1:30 PM today we are running a lockdown drill on the campus. None of the personnel on campus have been informed of this, so it will look like a real event to them. Please be assured that it is only a drill and should be completed within an hour. Thank you for your patience.

Now that the COVID challenge is nearing its conclusion we are in the process of recalling all Hot Spots that we handed out to Students, Staff, and Teachers. All students in grades K – 5 will no longer need the hotspots as their devices will be staying in the classroom. Students in grades 6 – 12, teachers, and staff who do not have WIFI at home are encouraged to fill out the following form, which will determine the necessity of continued use of the Hot Spot. Please note that as of Sept 12, all of those that have not filled out the form and received approval for continued use will have an interruption of service. If you no longer need your WIFI hotspot, please return the device to the front office of your school or your child's school.
Click this link (
http://pmg.app.perseus.id/div/carlsbad
) to register for COVID-19 drive through testing offered by Carlsbad Municipal Schools. Please see the attached flyer for more details.